February 23, 2023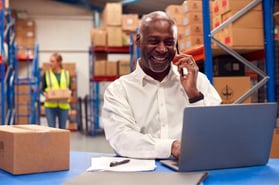 The rapid digitization of many things we use in the world today – such as money, mail and tickets has not escaped the humble mobile SIM card. As a result, the widespread support for eSIM technology in modern mobile phones is revolutionizing how mobile Unified Communications (UC) is being deployed for businesses.
eSIMs were originally developed to address the logistical headaches of traditional physical SIMs and the real estate that they take up in the devices themselves. Support for eSIMs has been added to smartphones – so these devices can support multiple SIMs simultaneously, and this provides businesses the opportunity to add a business line into any personal mobile device.
It means that organizations can not only reduce the number of company-owned devices, but they can drive mobile UC much deeper into their own organizations. This means they have more control over company phone calls made from mobile devices, as all mobile calls transit the existing UC platform.
Physical SIM Headaches
For most of the last 25 years, as mobile phone adoption became widespread, physical SIM cards were the standard. Short for Subscriber Identity Module, SIMs are chips embedded in small physical cards that have to be inserted into a special slot on a mobile phone. They do the job of identifying and authenticating a device on the mobile network and associating it with an authorized subscriber.
As great and necessary as physical SIMs are, they are typically problematic. The latest Micro SIMs are extremely small, can break easily, and are difficult to replace. You need a special tool (or a paperclip!) to open the SIM tray, and during the whole fiddly process, cards and tools get dropped or even lost. SIM card trays often don't go back in properly – leading to frustration and no mobile service. We've all been there!
These headaches are compounded for IT managers who issue company-owned phones to mobile employees. Imagine managing a user base of several thousand employees who may have to swap out cards when upgrading service or changing phones. There are a lot of places where that process and the associated logistics of getting the right piece of plastic to the right end user could go wrong, leading to delays and decreased work efficiencies.
Fortunately, technology moves ever forward, so eSIMs, the digital equivalent of a SIM card, solves most of these problems. They're virtual and can be produced with very little expense. They can't be physically damaged or lost, can't be duplicated, can be installed much faster, and the process can be managed remotely.
The body governing mobile technology – the GSMA, reported 110 device manufacturers are commercializing eSIM devices, led by smartphones. If you own a newer Apple, Motorola, Pixel or Samsung phone, you are very likely to have eSIM capability already. In fact, 79% of operators surveyed by GSMA think eSIM is a feature OEMs should prioritize, second only to 5G (86%).
The Trusted Connectivity Alliance found in 2020 that eSIM shipments grew by 83% year over year, and eSIM profile transactions increased by 300% year over year.
How eSIM Unlocks Mobile UC
A key benefit not widely touted in eSIM industry coverage is the fact that the technology enables a company to gain direct control over a phone line in any eSIM enabled phone.
That means a company can have employees activate new eSIMs in their personal phones and then integrate these eSIMs with the company's Unified Communications platform.
The result? True Mobile Unified Communications, turning each employee's or contractor's mobile phone into a fully featured business extension. Effectively, the office phone in their pocket!
To activate a new user, an IT manager need only email a QR code to employees. The employees scan the code with their personal phone, and the eSIM is automatically provisioned and usable to make business calls on their phone.

Now, all calls that come into their work phone number get routed to their mobile device and when they make a work call, it uses the corporate UC system and assigned business number. A BYOD phone now has two SIMs: the one chosen by the end user for personal communications and the new eSIM provided by their employer for work. Both work completely independently, keeping personal calls private.
Get in touch to see how new eSIM technology can unlock Mobile UC for any company.