May 6, 2020
Join us for an upcoming webinar focusing on how new connectivity technologies can tame some of the communications challenges facing modern healthcare organizations.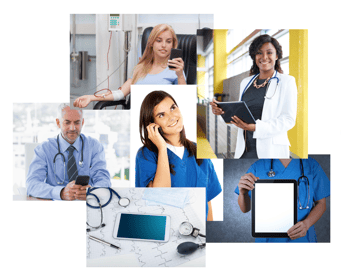 Perhaps no other industry has been revolutionized by technology as much as healthcare.
Mobile devices, wireless access, digitized records, smart sensors, internet of things and a range of other innovations have swept through medical practices and hospitals in recent years.
While these advances have helped to improve care dramatically, they also have introduced quite a few headaches for the IT staff supporting healthcare operations.
Join us next week for a webinar with the CBRS Alliance that zeroes in on the networking side of the healthcare technology equation: CBRS Alliance Addresses Healthcare Connectivity Challenges.
The surge of connected devices in the typical healthcare environment has made it harder for IT teams to manage wireless device performance and security.
In the webinar, our director of business development, Troy Reese, will explain how emerging next-generation wireless connectivity based on Private LTE can give IT teams great control over mobile communications and consolidate and simplify their environments.
Solutions such as our Mobile-X wireless service can enable your campus or facility to be ready for Private LTE by streamlining IT's control over wireless communications with next-generation fixed-mobile convergence technologies.
Mobile-X from Tango Networks is a key enabling service for modern business communications, including Mobile Unified Communications, mobile workforce communications, and programs for remote working, work from home, telecommuting and business continuity. The service brings next-generation fixed mobile convergence technologies to communications for the distributed workforce.
Learn more about the webinar and register here:
https://www.cbrsalliance.org/event/cbrs-alliance-ongo-for-healthcare-webinar/