April 26, 2019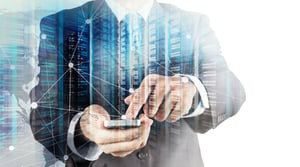 Text messaging is increasingly the critical communications tool for your customers to reach your employees.
If you use Cisco Jabber in your environment for employee collaboration, now you can extend its messaging to communicate with anyone anywhere on a mobile phone.
Surveys show that the majority of consumers want to use text messaging to interact with your sales, support and customer service staff.
Have you empowered your employees to take advantage of this mode of communication that is increasingly the preference of your customers?
SMS text-enabling Cisco Jabber implementations is a key way to tap this critical communications mode.
Cisco Jabber SMS Texting: messaging with anyone
Cisco Jabber is a unified communications application providing instant messaging communications and enhanced collaboration among employees.
Our Enterprise Text Messaging solution gives your employees on Jabber clients to easily send SMS text messages to anyone on a text-capable phone, including customers, partners or other people not using a Jabber client.
Your Jabber users can send and receive instant messages on Jabber as usual. Our system converts messages destined for external mobile phones into SMS texts. Inbound messages are converted from SMS to Jabber IM.
Now your employees using Jabber have an important new communications channel with the outside world, enabling them to communicate with customers in the preferred text messaging mode.
Expanding Your Jabber Footprint
Our Enterprise Text Messaging solutions will make Jabber even more useful for your users and expand the adoption of Jabber in your organization
Incorporating a breakthrough implementation of fixed mobile convergence technologies, Mobile-X from Tango Networks dramatically improves mobile communications for a distributed workforce, including Mobile Unified Communications, work-from-home, remote worker, teleworker, telecommuting, connected worker and business continuity programs.
Your Jabber users now have a much larger set of contacts they can engage by messaging with Jabber. Because our solution requires no special steps to communicate with anyone by text, your employees will turn to Jabber again and again for communications inside and outside the organization.
In the end, Jabber adoption in your organization will expand significantly as texting becomes an important new tool for engaging customers, partners and others outside your company.
Fill out the form below to learn more about Jabber SMS