September 27, 2019
HR professionals are becoming increasingly focused on how to improve employee working conditions in order to prevent burnout and stress and staff turnover. So more and more businesses are introducing remote working for their employees.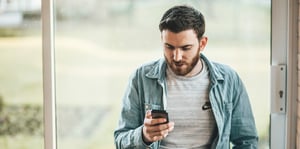 Work at home arrangements have grown 159% globally since 2005, according to GlobalWorkplaceAnalytics. Teleworking, remote working, virtual workplaces and work-from-home programs are increasingly critical to the operations of many companies.
But how does that work in situations where employees are dependent on their office phones to complete tasks?
Whether it be data protection issues or regulatory procedures that need adhering too, there are issues that mean employees using a personal phone isn't an option.
Alongside this, the added cost of providing each employee with a business phone could be a struggle for some smaller companies.
Created with the evolving business world in mind, we've introduced our Dual SIM Solution.
Our Dual SIM solution provides employees with a SIM that serves as their business number and is directly integrated into the business' phone service, PBX or other communications platform.
This means employees can:
Activate business communications features on their mobile phone, such as holding, call forwarding and short code dialling.
Maintain perfect separation between their business and personal communications.
Enforce compliance requirements like call recording on their business calls without affecting their personal calls.
Monitor and record business calls and texts made on the Second SIM.
Have mobile communications that are very intuitive and simple to operate, with business-class features like hold, call forward, in-office short dialling, conferencing and others.
The Dual SIM solution
In a saturated market, telecoms resellers are looking for new and innovative ways to improve their levels of service and support for customers.
Our Dual SIM solution offers huge benefits to end users and to resellers alike without the hassle of needing to support two or more devices. When you couple our Dual SIM offering with the power of Mobile-X, you can see there's a sustainable, smart offering which is perfect for any size or scale of enterprise.
To find out more about The Dual SIM Solution, Mobile-X or any other Tango product, please fill in the contact form on this page.