December 20, 2019
A thought-provoking piece by Julia Cho in The Atlantic lists some phrases that today's young people probably have never uttered: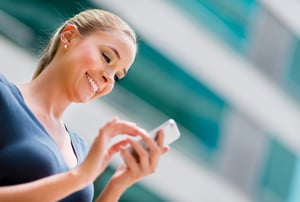 "I'll get it."
"He's not here right now."
"It's for you."
The fixed landline telephone, once an anchor of communications and social interaction in our homes, is disappearing from many households, replaced by wireless communications, Cho reports.
Phrases related to how we managed phone calls and phone interactions -- and really the interactions themselves -- are changing as a result.
Some estimate that the majority of Millennials entered adulthood without ever owning landlines. And it has been three years since the majority of US households became mobile only, according to the US government.
Businesses are also following the "Mobile First" trend and making mobile phones the primary communications devices for employees. Some go as far as "Mobile Only" and do away with landlines altogether, as we have seen with consulting firm PwC.
These changes can bring about a major boost in workforce productivity and flexibility for businesses. Employees become more reachable and more responsive. They can make decisions and collaborate more freely and quickly, making the business ultimately more competitive. Teleworking, remote working, virtual workplaces and work-from-home programs are increasingly critical to the operations of many companies and "Mobile First" is a key enabler of such programs.
The key is to ensure these communications are business class and have the quality and performance that have long been hallmarks of the landline business phone.
Mobile-X
Our Mobile-X service offering accomplishes exactly that, extending business quality Unified Communications to any mobile phone for a top-flight mobile business communications implementation.
In fact, our CSP partners who deliver business communications services are rolling out exciting, sticky new mobile communications with Mobile-X.
If you are a CSP offering communications services to businesses, Mobile-X connects your UC service platform, such as the BroadSoft platform from Cisco, to the mobile network. It turns mobile phones into extensions of the UC platform. So it is like the employees of your business customers are carrying their desk phones in their smartphones.
Mobile-X:
Extends the business calling features of the UC platform natively, without needing any Over-the-Top UC apps on the phone.
Permits users to activate business calling features like forwarding and hold from their native mobile device interfaces.
Are you a Communications Service Provider looking to raise your business market offerings to the next level? Fill out the form below to connect with us and learn more about Mobile-X and the opportunity for CSPs.