March 15, 2019
Healthcare operations are being revolutionized by new communications technology, including mobile devices, video consultation, messaging and smart devices.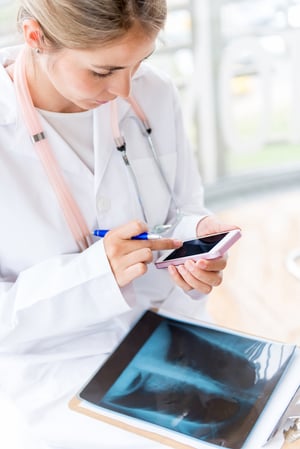 But the IT teams supporting and driving this revolution face a series of challenges to ensure the enterprise retains the necessary control over communications and costs.
Regardless of the industry, communication is a critical catalyst to success, and at the same time one of the biggest burdens. It's a burden that is based on cost, support needs, and security risks, just to name a few.
As indicated in a Gartner study earlier this year, Communications Services equates to over two-thirds of IT Spending worldwide. Not only is this spend costly, but it poses a number of challenges for any industry, but especially impactful in healthcare and finance with HIPAA and Sarbanes-Oxley, etc., watching over the providers.
Communications Underpin IT Challenges
LexisNexis disclosed in a recent white paper, "Top Priorities for Healthcare IT Leaders in 2019," that cybersecurity, interoperability and healthcare consumerism were the top priorities.
IT leaders' plates are full with managing and leveraging dynamic data, protecting health information in a mobile environment and providing patients with an excellent healthcare experience. Arguably all of these buckets rely at least in part on the communications spend and also contribute to the burdens.
Advanced messaging, mobile Unified Communications, video conferencing, Internet of Things and a host of other communication tools play ever more important roles in effective patient engagement.
How can a healthcare provider effectively allow all the people in the continuum of care to communicate with these new tools without compromising the patient's personal information or compromising the provider?
The short answer is there isn't a single solution today. There are a number of companies vying for the right. You can see that by walking into any hospital and looking at the various devices plugged into and around the nurse's stations, making them look more like Anakin Skywalkers' parts closet than the central hub for excellent patient care.
There are, however, solutions for mobile phones coming to the forefront that can simplify the life of the clinician and protect the integrity of the data without hampering the way they communicate every day.
And, while making life easier for the clinician, the CIO can rest assured that all voice and all texts sent via the device have been routed through their secured network, even if they are outside the network.
Healthcare Mobility With Control
Businesses around the globe are adopting mobile-first communications, making mobile devices the primary tool for business communications.
Providing a more robust, secure and controlled way to integrate mobility into the enterprise communications mix is why we recently launched Mobile-X solution, the industry's first Global Private Mobile Network service for enterprises.
Mobile-X is the first service to put control over mobile voice, messaging and data directly into the hands of enterprise IT, for all employees in any location on any device.
Incorporating a breakthrough implementation of fixed mobile convergence technologies, Mobile-X from Tango Networks dramatically improves mobile communications for a distributed workforce, including Mobile Unified Communications, work-from-home, remote worker, teleworker, telecommuting, connected worker and business continuity programs.
Contact us today for a demonstration.