August 23, 2019
"I can't wait to call my broker and play phone tag the rest of the day," said No Customer Ever.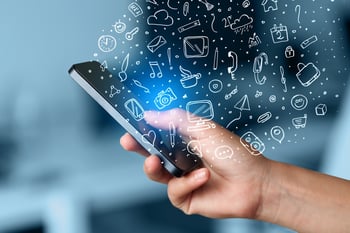 That is why text messaging has become the preferred way for many customers to communicate with companies they are doing business with.
Sales, customer care, feedback on product experiences, service requests ... these issues and more are being resolved by messaging between customers and companies.
If you are a solution partner for Cisco Webex or Cisco Jabber, you can now unlock this important new communications channel for your customers.Our new SMS Texting Solution for Cisco Collaboration enables corporate users of Cisco Webex Teams or Cisco Jabber to send and receive SMS text messages with anyone on a mobile phone.
That means your customers for Jabber or Webex Teams solutions can use those systems for communicating with customers, patients, clients, students, partners and anyone else in the outside world.
Just think about how much more useful those Jabber and Webex deployments will become.
Sure, both these solutions have a huge impact on internal communications and collaboration. But by enabling Jabber and Webex messages to be sent to external users, you raise the value of Cisco Collaboration to a whole new level.
Here's how it works:
Our service seamlessly converts the internal collaboration messages into external SMS messages.
The users can use their existing Jabber or Webex Teams clients to communicate with anyone on any mobile phone on any network.
The messaging can be captured and recorded on archiving, monitoring or compliance systems for quality assurance or to meet regulatory requirements.
That's right. Even companies in regulated industries like financial services can enable employees to text with customers and remain compliant with the regulations.
Mobile-X from Tango Networks is the centerpiece of a wide range of use cases, including Mobile Unified Communications, mobile workforce communications, and programs for remote working, work from home, telecommuting and business continuity.
Ready to roll out this exciting new offering to your Cisco customers? Just shoot us an email or fill out the form below to get started.