July 28, 2022
As companies around the world work to cut their carbon emissions, focus is turning to the carbon footprint of information technology.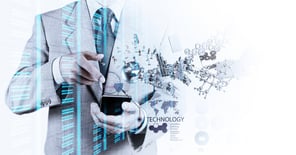 Researchers report that mobile phones now contribute the most of any IT device, eclipsing personal computers, laptops and displays, according to a report from McMaster University.
But thanks to new eSIM technologies, business communications can be securely migrated to personal mobile phones and companies can retire redundant mobile and landline phones.
Today we announced our Tango Extend service's ability to consolidate communications and help cut a corporation's carbon footprint.
Focusing on 'Digital Carbon Footprint'
The UK government reported that a third of the UK's largest businesses have pledged to eliminate their contributions to carbon emissions in coming decades. These corporations included leaders such as AstraZeneca, BT Group, Sainsbury's, and Unilever, in total
30 firms that are part of the FTSE 100.
We've also started to see growth in companies specializing in carbon footprint auditing and reduction, including analysis of a company's "Digital Carbon Footprint."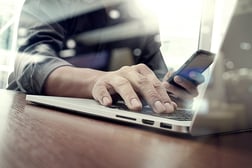 Researchers have analyzed the emissions associated with manufacturing and using IT devices and report that mobile phones are in fact the top producer of carbon throughout their production and useful lifetimes.
As I detailed in an earlier posting, manufacturing the average smartphone results in 55 kilograms of carbon emissions, according to researcher and writer Mike Berners-Lee in his book How Bad Are Bananas: The Carbon Footprint of Everything.
In his analysis, Berners-Lee finds that a typical person's purchase and usage of smartphones throughout a typical lifetime would exceed the equivalent of flying from London to New York 7.5 times.
From a business point of view, if your goal is to reduce your company's carbon footprint then an important area to consider is how to consolidate and reduce redundant information technology systems.
BYOD Can Cut Carbon
Our Tango Extend service is becoming the centerpiece of many corporations' efforts to cut their carbon footprints by consolidating communication on employee mobile phones.
In fact, Tango Extend can embed a full-featured business line in an employee's personal Bring Your Own Device (BYOD) phone.
That means an employee's personal phone can become their primary communications device, allowing you to eliminate company-issued phones and also cut landline desk phones.
Tango Extend is a native mobile service, requiring no apps or special training. All business communications can be operated directly from the phone's native interface.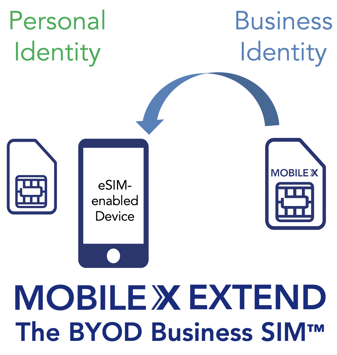 Employees love it because they just use their phones the way they always have, and they no longer have to carry two mobile phones.
Tango Extend also enables business communications on personal mobile phones to be captured and recorded for compliance with records retention or call monitoring, such as in financial services or customer service operations.
Tango Extend has won more than 12 best new product awards and channel supplier citations. This solution is based on our fixed-mobile convergence technologies covered by more than 90 patents. It works by putting the company in control of an eSIM on an employee's eSIM-enabled phone. All business communications use the company identity and number, while personal communications remain private and use the personal identity and number.
Companies use our solutions for Mobile Unified Communications (Mobile UC), Mobile First and Mobile Only communications.
Tango Extend permits businesses to run work-from-home, hybrid and work-from-anywhere programs while retaining communications control and compliance. The solution brings fully integrated business communications to mobile employees, deskless workers and frontline workers such as in-home service personnel, many for the first time.
Want to learn more about Tango Extend? Just fill out the form and we will be in touch: