June 7, 2018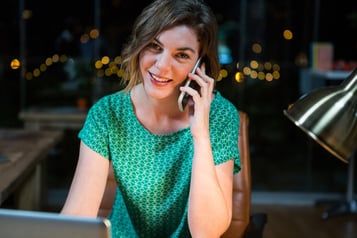 Going mobile with Unified Communications has been an increasingly important goal for enterprises.
Empowering employees to get more done at any time and in any place is the promise.
Ideally, a fully mobile UC deployment should enable the
mobile workforce
to communicate on mobile phones as if they were in the office using a desktop UC phone.
But one of the most common ways that mobile UC is deployed is coming up short.
Many UC vendors offer mobile apps that employees can operate on their mobile phones.
But as a prominent industry analyst recently told us, the adoption of these mobile UC apps is "practically nil."
Why is that? Why do employees continue to ignore the mobile UC apps that seem to hold so much promise?
There are several key reasons.
To start, the apps often offer clunky interfaces that require employees to learn a new way to use their phones. Unless the app mirrors the way the user already knows how to use the phone, employees may either ignore or misuse the app.
The different interface also requires company training and support. IT departments have to take on the added burden of trouble-shooting and retraining users.
Finally, many enterprises are forced to deploy UC systems from multiple vendors to meet different communication needs. Wainhouse Research reports that a third of enterprises have two or more UC vendor systems in house.
So employee use is more complicated by having to keep track of which app to use when placing different kinds of calls.
A Simple Fix
The Kinetic Communications Solutions from Tango Networks can erase all of those hurdles.
The Kinetic solutions give employees an intuitive experience, such as using their smartphone's native dialer to connect the phone's "Green Button" to the enterprise systems whenever possible. Their mobile phones become like landline extensions of the corporate communication system.
Because the experience is intuitive and simple, training needs are greatly minimized.
And the Kinetic solutions offer seamless multi-vendor support. The software-defined system integrates and orchestrates across communications systems from multiple vendors.
Check out the simplicity of activating business calling features with the platform:
Contact us today for a personalized demonstration.