March 3, 2017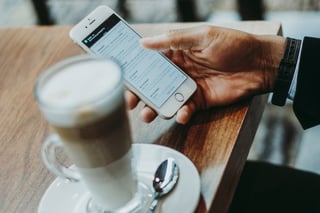 For more than a decade now the question of "To BYOD or not to BYOD?" has been front and center in many corporate IT and communications programs.
BYOD reached a tipping point a few years ago as a majority of enterprises began to permit it in some form, or as futurist Daniel Burrus calls it, "the tipping point of consumerization of IT."
Now surveys are more likely to examine what's going on in the minority of companies that still do not permit it.
Bring Your Own Device has different meanings in different contexts. It might mean letting an employee use a personal laptop on the corporate network to access corporate applications. In another context, it might mean permitting an employee to perform certain tasks outside the office using corporate data on a personal tablet or smartphone.
But BYOD also has come to mean letting an employee use a personal mobile phone instead of the traditional desk phone.
The trend of "Mobile First" communications generally means displacing desk phones with mobile devices. But when you decide to let those be personal devices as part of a BYOD program, what factors come into play?
'Who is calling me?'
Ever since caller ID has become pervasive, it has become second nature to screen an inbound call to decide if we want to take it.
So are you most likely to pick up a call from a number you don't recognize, or one that is clearly from your doctor's office?
It might seem like a minor inconvenience at first glance. But when a patient doesn't recognize the doctor office's call because it is from a personal device, and sends it to voice mail, the interaction between patient and doctor has just been unnecessarily extended.
Multiply that inefficiency by many patients over the course of a year, and you see that patients are losing out on efficient interaction with doctors, and the medical professionals are losing valuable time to leaving voicemails, returning missed calls, and so on.
The compounding inefficiency can be just as costly in virtually any industry that relies on communications involving frequent interactions over the phone.
The solution to this problem is to enable mobile devices to become extensions of the corporate PBX or unified communications systems. Then work-related calls can be automatically routed through those systems and carry the number of the corporate entity.
Our Kinetic Communications Platform does exactly that. Even a user on a personal BYOD phone will appear to be calling from the main corporate number. The calls are more professional and much more efficient as they are more likely to be picked up the first time.
This capability stems from our platform's powerful dual persona management features. The platform automatically routes business calls through the corporate system and so those calls are properly identified as coming from the corporate number.
At the same time, personal outbound calls use the personal number. This dual persona management is automatic and requires no intervention on the part of the user.
Calling features
Another consideration in BYOD for enterprise communications is how well the personal device can perform as a desk phone substitute.
PBXs and Unified Communications systems have features we have come to view as essential for business, such as conferencing, transferring and hold.
How can you ensure that employees on their personal devices will have access to the same functionality, that the functions will be compatible with other devices in the corporate environment, and that the functions will operate smoothly and professionally?
Just as importantly, how can you ensure that the user experience is easy and seamless? If users struggle with clunky apps or must hunt for how to activate a feature, the experience will be sub-par and they will be less likely to use the feature properly, if at all.
Our Kinetic Communications Platform has been designed from the ground up to extend the corporate calling features to mobile devices, including BYOD. This can even mean giving BYOD phone users the ability to operate their phone's own native dialing interface to activate corporate calling features. That's the ultimate in BYOD and corporate communications integration.
Security & Compliance
Security and ensuring compliance with regulatory rules has been one of the biggest inhibitors of BYOD in many contexts.
For example, an employee's personal device could be compromised and lead to a data breach involving corporate applications. Many IT shops were reluctant to adopt BYOD until the controls to mitigate that risk could be put in place.
Similarly, adopting BYOD for voice communications and UC can be inhibited if the proper compliance safeguards and controls are not put in place.
These may include the requirement to record and archive calls in regulated industries like financial services. Or in a customer service focused organization, the corporate policy may require the monitoring of customer interactions for quality assurance.
BYOD poses a challenge in this context because typical personal mobile devices are completely disconnected from the corporate compliance systems that do the monitoring or recording.
Our Kinetic Platform addresses this challenge by enabling all corporate calls from personal devices to be routed through the corporate voice systems and the existing call recording or monitoring systems attached to them.
In this way, a business call made on even a personal BYOD phone will be properly recorded by the same system that would record the call on a desk phone.
BYOD Made Easy
Contact us today for a customized demonstration of how the Kinetic Communications Platform can enable a simple, seamless transition to BYOD for your voice and unified communications.