July 24, 2018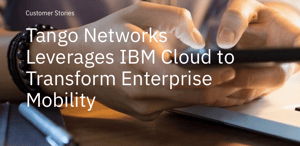 Tango Networks is highlighted in a case study published by IBM today, focusing on how we leverage the IBM Cloud for our Kinetic Cloud enterprise mobility service.
"Launched atop the global capabilities of IBM Cloud," the case study blog posting says, "Kinetic Cloud claims to be the industry's first cloud-powered enterprise mobility enablement solution, delivering communications control, compliance, and productivity to the workforce natively on any mobile phone."
In the case study, Andrew Bale, Tango Network's General Manager for Cloud Services, cites IBM Cloud as a chief enabler of the Kinetic Cloud. "In his view, IBM has been transformative for his company, and the reality of what IBM Cloud offers represents actionable value, not hype."
The case study goes on to describe how Kinetic Cloud is revolutionizing enterprise mobility:
Tango Networks describes Kinetic Cloud as a communications control service offering enterprises, including multinationals, a single point of management that integrates their users' mobile communications with their office Unified Communications (UC) systems, fixed telephony, call recording systems, and even business applications. Among the capabilities Kinetic Cloud offers include the following:
Automatic logging of mobile calls and texts into CRM and other business applications.
Separation of work and personal communications and identities, ensuring personal calls remain private for compliance with GDPR and other privacy regulations.
Centrally enforced safety policies, such as blocking mobile usage to cut the risk of distracted driving.
Contact us today to learn more about how our Kinetic Communications solutions can transform mobility in your company.