April 13, 2020
For the third consecutive year, Tango Networks has been named to the list of top 20 UCaaS providers by Channel Partners magazine.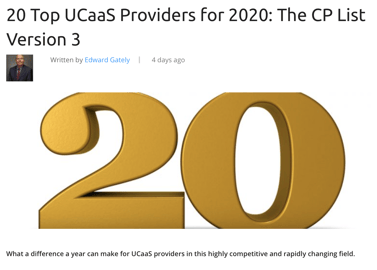 Noting that although the market was already seeing shifts in appeal for UCaaS, the magazine said UCaaS demand has exploded during the COVID-19 pandemic.
The publication based its list of top providers successfully making the most of the current competitive landscape on feedback from analysts and experts, as well as recent news reports.
Raul Castanon, senior analyst of workforce collaboration for 451 Research/S&P Global Market Intelligence, said our Mobile-X service allows organizations to securely connect their UC systems and business applications with mobile devices over any mobile network, the magazine said.
Mobile-X is a mobile enablement service that extends a company's PBX or UCaaS platform to mobile phones, integrating mobiles for a company's employees directly into company communications. UCaaS service providers work with us to mobile-enable their business communications services.
"The integration at the network level enables organizations to convert mobile devices into a mobile endpoint on their UC networks, allowing them to manage mobile services and enable UC features on their employees' devices, including enabling control from the mobile phone's native dialer and phone number," Castanon is quoted as saying in relation to Tango Networks and Mobile-X.
About this year's list in general, Castanon said that incumbent providers are "upping their game" with AI-enabled capabilities, and a unified end user experience with tight integrations across messaging, voice and video.
Teleworking, work-from-home, remote working and business continuity programs are further driving demand for cloud-based communications solutions such as Mobile UCaaS enabled by Mobile-X.
Integrating mobile communications with your UCaaS offerings
Our Mobile-X service for UCaaS CSPs provides simple-to-integrate mobile communications for your business customers.
Universal corporate SIM that works everywhere
Out-of-the-box integration with all leading enterprise UC and UCaaS platforms, including Cisco (BroadSoft), Avaya, Microsoft, Asterisk & FreeSwitch
Unique self-service features that put control over policy, usage, routing and security into your business customers' hands
Mobile call recording & policy compliance, filling a critical need for many business customers
Unique native mobile network performance, quality and security -- not messy over-the-top UC apps
The Mobile UCaaS Opportunity
Our CSP partners unlock new revenue streams, expand customer engagements, and deliver services that business customers love and need today.
Differentiated mobile-inclusive offerings
Enable "Mobile First," "Mobile Only" and Fixed-Mobile Convergence strategies for customers
One-stop shop for fixed and mobile services
Expanded ROI by bringing more users to your UC platforms
Unique business-friendly features like putting customer IT departments in direct control of mobile
Device-native, highly intuitive user experience, cutting training and troubleshooting for you and your customers
Fill out the form to learn more about bundling Mobile-X with your UC service offerings.