April 27, 2020
Tango Networks has won a Teleworking Solutions Excellence Award for its Mobile-X solution.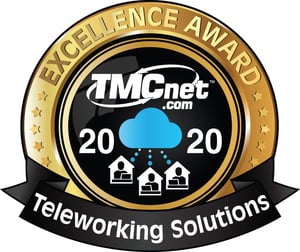 TMC, a global, integrated media company, honors the best and most innovative teleworking products and services available as judged by the editors of TMC's INTERNET TELEPHONY magazine.
Tango Networks was recognized for the Mobile-X solution in the category of mobility for teleworkers."The TMCnet Teleworking Solutions Excellence Award recognizes the best and the most innovative products that this industry has to offer. Tango Networks has proven their commitment to quality and the further development of the Teleworking Solutions industry through Mobile-X," said Rich Tehrani, CEO, TMC.
"Congratulations to the entire team at Tango Networks for earning this great honor. I look forward to seeing more innovative solutions from them as they continue to contribute to the future of Teleworking," Tehrani added.
What is the Mobile-X teleworking solution?
Mobile-X is a turnkey service that mobile-enables any corporate phone system with native mobile communications integration. The service is perfect for communications to support work-from-home, remote worker, teleworker, telecommuting and business continuity programs.
Mobile-X turns any employee's mobile phone into an extension of a company PBX, Unified Communications platform, or UCaaS subscription service.
It's just like employees are carrying their desk phones in their mobile phones. Employees on-the-go or working remotely can do extension dialing, call transfer, conferencing and other tasks right from their mobile phones. But Mobile-X requires no special apps or over-the-top interfaces that create user headaches and performance problems.
Using next-generation fixed-mobile convergence technology, Mobile-X delivers true Mobile Unified Communications enabling employees on mobile phones to make and receive calls using the company business number and Caller ID , not their mobile numbers. Employees can use their mobile phones for seamless, business-quality company communications in any location at any time.
Mobile-X puts company IT in direct control of mobile communications for the first time, allowing IT managers to manage mobile communications just like they do other IT systems, including recording or monitoring mobile communications voice and texts.
About the Teleworking Awards
The 2020 TMCnet Teleworking Solutions Excellence Award will be highlighted on TMCnet and INTERNET TELEPHONY magazine's online news portal.
For more than 20 years, TMC has been honoring technology companies with awards in various categories. These awards are regarded as some of the most prestigious and respected awards in the communications and technology sector worldwide. Winners represent prominent players in the market who consistently demonstrate the advancement of technologies. Each recipient is a verifiable leader in the marketplace.
TMC honors available products that help ensure remote workers have access to the same communications and other corporate resources as they would in the office.
Whether they are adjusting to new teleworking environments during the COVID-19 pandemic, or had previously adopted technologies in response to an already existing remote workforce trend, the products and services from winners of the 2020 Teleworking Solutions Excellence Award will enable businesses to effectively support their mobile and remote workforces.
Learn more
Mobile-X is available exclusively through Tango Networks' channel partners. Send us an email at sales@tango-networks.com or fill out the form to learn more.