May 8, 2019
Mobile communications are becoming central to many information technology resellers' offerings for their enterprise customers, according an article in the latest issue of Comms Dealer magazine.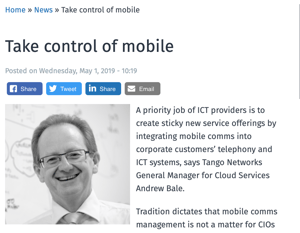 The magazine interviewed our GM of Cloud Services Andrew Bale about the trend of resellers creating high-value services featuring enterprise mobility, that put control over mobile voice, messaging and data into the enterprise's hands.
"There is a golden opportunity for VARs, CSPs and hosted service providers to launch a new breed of MVNO focused on business mobility, and shine a light on the last major blind spot in corporate IT," Andrew told Comms Dealer, which describes itself as the industry's leading information resource for the communications and convergence channel community.
The "blind spot" in mobility comes about because IT leaders in most businesses cannot directly see or control mobile services like they can the rest of it, he explained.
"In a typical enterprise CIOs have direct control over IT assets and services such as networking, Internet, applications, security, telephony etc.," the magazine wrote. "But mobile phones are now the primary communications devices in many enterprises, and everyone uses them to access business applications that the CIO's staff can't control in the same way they can other parts of IT."
But the mobility blind spot is being erased thanks to new offerings like Tango Networks' Mobile-X, a global mobile communications service that resellers can bundle into their offerings and give their enterprise customers direct control over mobile voice, messaging and data.
The magazine explained: "Tango Networks (which acquired Simetric Telecom in November last year), for example, has enabled channel partners to give large distributed enterprise customers a single, global mobile network service that is private, secure and directly in control of the enterprise CIO."
Our Mobile-X solution enables a reseller to offer their customers services such as Mobile Unified Communications driven by the enterprises' telephony platform. Services also include Compliant Mobile Communications, with capturing and recording of mobile voice and messaging.
Read the article in Comms Dealer here.
Interested in learning more about becoming a Mobile-X reseller? Fill out the form to learn more about the new opportunity.