March 23, 2017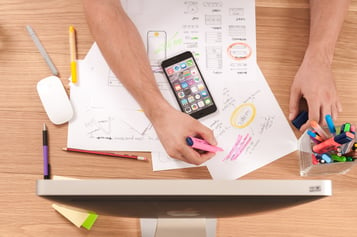 Mobile devices have turbo-charged company productivity.
We've all seen the benefits. By improving employee reach and responsiveness, mobility has become a key business strategy.
At the same time, we've seen a lot of investment and innovation in customer care. Companies are deploying new tools for customer-facing teams like agents in customer care and technical support. Customer-facing processes and workflow tools have become essential for competitiveness, according to industry observers.
But are you really maximizing the value of mobility for your customer-facing teams?
Are your mobile communications tools in sync with your customer experience workflow tools?
To boost the productivity of your customer-facing teams, you need to synchronize voice and text mobile communications with your customer experience workflow.
The Kinetic Communications Platform from Tango Networks is where these two critical areas of innovation come together.
Imagine that the right mobile communications tool is immediately available to a customer care agent at the right step of the customer care process. That's what the Kinetic Platform does for you when you implement workflow-driven mobile communications.
For customer care teams, this means agents on mobile devices have the same calling features and options as agents on traditional desk phones. This is true even for personal devices in a Bring Your Own Device (BYOD) program.
The platform enables you to monitor and record calls on mobile devices with the same recording systems that you use for landline phones. Now quality assurance processes can be extended even to BYOD devices.
The Kinetic Platform automatically ensures that a customer sees your corporate customer care number in the Caller ID when a field service technician calls from a mobile device.
If you have invested in employee mobility and also in improving the customer experience, then the Kinetic Platform can maximize the impact of both these investments.
We're excited to unveil our new Customer Experience Management solution next week at Enterprise Connect in Orlando.
Don't miss it! Register here or use code TANGONET on the main registration site to save an additional $500 off advance rates to Enterprise Connect!
Stop by booth #2408 or click here to book a meeting with us to see our new mobility solution for superior customer experience.