November 22, 2017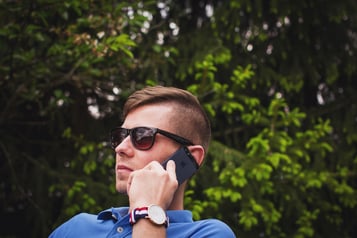 The "office" is no longer just a bricks and mortar building maintained by employers. And the traditional workday is quickly becoming a relic.
A growing number of workers no longer expect or want those trappings.
They're using their smartphones, the Cloud and other technologies to change what many still think of as the traditional 9 to 5 workday.
US government-released statistics that came out in June reported that a third of college-educated workers do some or all of their work at home.
And GlobalWorkplaceAnalytics.com says that 80 to 90% of employees say they want to telework at least part of the time.
As this transformation is taking place, the challenge for IT managers becomes how to ensure that workforce mobility Is in compliance with corporate policies along with security and quality optimization programs.
As workers are increasingly using mobile devices for business activities that can take place at any time or in any place, employers need to be able to monitor and control those communications.
The Mobile Professional
Many of us have "cut the cord" at home, with more than half of US households no longer subscribing to a landline phone service, according to Forbes. Now workers are expecting the same mobility and flexibility in the workplace.
Executives, operations managers, engineers and other business professionals are often on the go. Employees at Fortune 1000 companies are away from their desks for more than 50% of the time, according to GlobalWorkplaceAnalytics.
Many of these workers expect to use their mobile devices to get their jobs done, whether from home or remotely or after hours. They're increasingly not feeling any boundaries.
But empowering and taking advantage of this mobility presents a number of challenges, including when employees use their own personal devices, such as in a Bring Your Own Device (BYOD) program.
These communications need to be covered by quality programs for customer experience management.
They also must be secure, protecting sensitive or compliance-related information such as relating to customers in healthcare or finance.
Workers also want all of this with no additional headaches. They just want to use the device they're familiar with.
Taking this all into account, how do you give your workers these communications tools and not create major IT challenges or compliance violations?
The Kinetic Platform
The easiest way to address these concerns is by making your employees' mobile phones part of the communications systems you already control. Just take the device and the location out of the equation.
With the Kinetic Communications Platform from Tango Networks, you have direct control and the ability to enforce policies on mobile devices. You can manage them exactly as if they are desk phone extensions of your communications and compliance systems.
Capabilities of the Kinetic platform include:
Mobile phone = desk phone: Any mobile phone is integrated by the Kinetic platform into your existing communications systems, including your professional users' BYOD phones. The mobile devices become extensions of your systems allowing you to enable features and policies.
Corporate ID management: Employee mobile calls are routed through the Kinetic platform, carrying your corporate identity and promoting more professional and efficient work communications. But, importantly, your employees' personal calls remain private.
Compliance & quality: The Kinetic platform also lets you ensure workers are in compliance in professions where call recording and archiving are required. The Kinetic platform lets you record users' mobile calls using the same compliance systems you use for landline desk phones. Similarly, call monitoring and quality assurance processes can be used on these communications, ensuring these devices are in scope for your customer engagement program.
So you keep up with and benefit from the mobile workforce trend thanks to the Kinetic platform. And you give users the ability to work when and where they want to, without sacrificing control or communications compliance.
Contact us today to arrange a personal demonstration of the Kinetic Communications Platform.