August 8, 2019
UC-as-a-Service (UCaaS) has become one of the hottest communications service offerings in the last few years.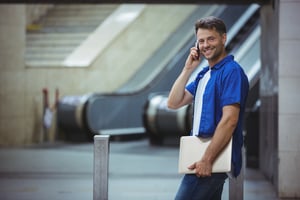 From small businesses to global enterprises, operations of all shapes and sizes have seen the value of deploying UC via hosted services based in the cloud or other configurations.
But now that mobile phones are the primary communications devices used by many enterprises, UCaaS needs to expand to include mobile communications.
Mobile UC for your business customers
If you are a Communications Service Provider offering UCaaS services, our Mobile-X service provides simple-to-bundle mobile communications for your business customers.
Out-of-the-box integration with your UC and UCaaS platforms, including Cisco (BroadSoft), Avaya, Microsoft, Asterisk & FreeSwitch
Universal corporate mobile phone SIM that works everywhere
Unique self-service features that put control over policies, usage, routing and security into your business customers' hands
Mobile call recording & policy compliance, filling a critical need for many business customers
Unique native mobile network performance, quality and security -- not messy over-the-top UC apps that customers hate
The Mobile UCaaS Opportunity
Our CSP partners unlock new revenue streams, expand customer engagements, and deliver services that business customers love and need today.
Fill out the form to learn more about bundling Mobile-X with your UC service offerings.