February 7, 2017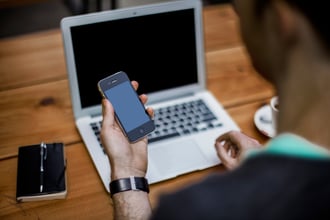 Every so many years, an analyst or technology vendor makes the bold declaration that something is dead.
And for some time now, the desk phone is dead!
Taking whatever market you're in and then declaring "Technology X is dead!" seems to be a good way to make a point about a trend.
When it comes to the desk phone, the predictions of the device's demise are decidedly mixed. As CIO reported, many enterprises continue to use a blended approach, supporting various mobile and fixed end-points to accommodate user preferences and circumstances.Still, the undeniable trend is that mobile devices have revolutionized business communications and increasingly supplant the traditional tools of interaction and collaboration.
And like with any technological disruption, the thing that is declared dead can only really be on the decline if a viable and compelling technology and adoption strategy emerges to replace it.
In the world of business communications, that adoption strategy is "Mobile First" communications.
Going Mobile
For enterprise communications, going mobile first is about making the mobile device the primary communications end-point for users.
Brian Solis, principal analyst at Altimeter Group, recently reported that cord-cutting is increasingly pervasive in people's personal lives, as a majority of US households have eliminated traditional landlines and use only mobile phones.
The same phenomenon is hitting the workplace. Solis cites research indicating that workers at Fortune 1000 companies are away from their desks half the time or more.
These "Anywhere Workers," as Solis calls them, or cord-cutting workers make the mobile device their work device of choice.
Why go Mobile?
The cost savings of retiring desk phones is often cited as a chief driver for going Mobile First. Calculating the cost savings can get tricky.
If your enterprise already provides mobile phones or subsidized Bring Your Own Device programs, then eliminating the desk phones will obviously be a net reduction in communications costs. But if you are swapping out desk phone costs with new mobile device costs, then the benefit might not be so clear on its own.
That's why it is important to consider the great operational and process benefits of cutting the cord.
If the mobile device is the primary communications end-point, then employees are more responsive, able to be reached more easily. This has obvious and tremendous benefits for operational efficiency, customer satisfaction, and similar metrics.
It's a common view that newer, more technology oriented companies might be more willing to go Mobile First than will traditional, larger and established companies. But that's no longer the case. Crain's Chicago Business recently reported that even large firms in Chicago are increasing cutting the cord in favor of mobile devices as the primary user end-point.
Tango Networks offers a range of solutions with our Kinetic Platform can mobilize enterprise communications and streamline the journey to Mobile First strategies. If you plan to attend this year's Mobile World Congress, be sure to stop by our Pod #7UP.66 to check out the Kinetic Communications Platform.
In the next blog post in this series, we will explore why the user experience with the mobile device can make or break a Mobile First strategy.
Download the latest Trend Advisor on Mobility for the Modern Enterprise.