September 13, 2019
As a telecoms reseller, you'll understand that customer experience and satisfaction are two of the biggest reasons your customers come to you for streamlined communications packages.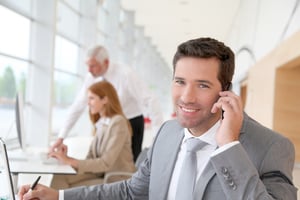 They need packages that allow them to remain compliant, enforcing policy requirements like call recording and call monitoring, but that also fit with their business processes.
We know that more and more businesses are beginning to offer remote working and "work-ations" and so mobile phones are becoming the primary communications tools for their employees.
As a result, businesses are committing to the purchase of employee business handset which is accompanied by a significant increasing in business costs.
Wouldn't it be great if you could offer an alternative solution to those customers?
We're here to tell you that we can create that opportunity for you to offer the solution to your business customers, helping you, as resellers, stand out from the crowd:
Our Second SIM Solution is now available exclusively through our resellers and solution provider partners.
This Second SIM Solution will provide business users with a SIM that serves as their business number and is directly integrated into their business phone service, PBX or other communications platform.
What's more, the SIM can be simply inserted into their personal phone without interrupting their communications services, so there's no need to purchase a second handset or carry two phones.
They simply choose which line they operate from and that's it.
Do you want to help your customers unlock the true power of mobility?
In Tango Networks' partner program, we work closely with distributors, channels, and integrators in promoting and selling our advanced mobility solutions.
Our shared goal is to grow your business and ours profitably. To do that, we provide you with the tools and training to successfully market Tango Networks solutions.
Why become a partner?
Add advanced mobility solutions to your offerings to customers
Benefit from our marketing assistance
Gain access to Tango Networks' helpful technical and marketing materials and partner support
Visit our partner program page to register your interest and find out more.