January 27, 2017
Few industries have been transformed by digitization and IT advances as much as healthcare.

From adopting digitized electronic records to a range of IT-based care tools, hospitals and medical professionals have embraced digital transformation at a pace that has accelerated in the last few years.

In the US, the HITECH law passed in 2009 was geared to invest billions in health information technology with a particular focus on establishing widespread adoption of electronic health records in a digital format.

Similarly, other countries have undertaken major pushes for electronic health record adoption, such as the UK's National Health Service Connecting for Health, albeit with mixed success in some cases.

Healthcare consumers likewise are embracing these new digital ways of interacting with care providers and their organizations.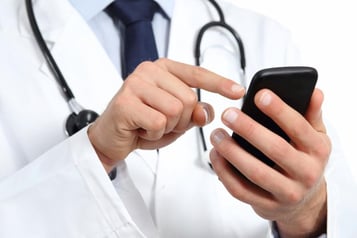 A recent survey reported that telemedicine or telehealth is viewed positively by a majority of US consumer respondents. The survey, conducted by telehealth solutions provider American Well, indicated that nearly two-thirds of respondents would be willing to hold a video consultation with their primary care physicians.
In terms of healthcare treatment techniques themselves, the introduction of IT tools such as diagnostic computerized carts and smart devices are naturally having a major impact.
The Mobility 'Game Changer'
A recent study by McKinsey described mobile-enabled healthcare as a "game changer" especially for younger patients.
But the challenges with mobile devices in the healthcare setting include the Bring Your Own Device (BYOD) trend. A study reported in mHealth Intelligence estimated that 85% of professionals working in healthcare were bringing their own personal devices into the workplace to do their jobs.
Furthermore, smart devices that are out of the IT team's control could create security, policy and compliance problems.
For mobile devices to have the greatest value for the digitized healthcare organization, they need to operate seamlessly with the communications systems and compliance procedures that are already central to the organization.
True Mobility for Healthcare
The Kinetic Communications Platform from Tango Networks delivers true mobility for healthcare organizations. With the platform, any mobile device - including BYOD - becomes an extension of your existing PBX or Unified Communications system.
The platform enables rich UC features to be used on any mobile device with a highly intuitive, superior user experience. It delivers industry-leading mobile identity management, with dual personas that ensure business and personal communications are kept separate. The platform even enables mobile device communications to be logged, recorded and archived centrally like your other communications end-points.
Learn more about Tango Networks' solutions for healthcare organizations by clicking here.
Download the latest Trend Advisor on Mobility for the Modern Enterprise.