March 20, 2018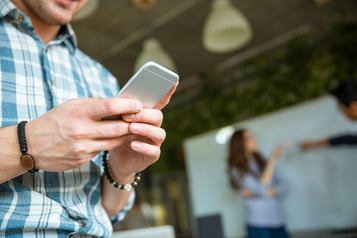 One of the most important developments in business communications over the past decade is the rise of text messaging as a tool for customer, partner and client relations.
A large majority of consumers say they would rather text with your business than place a call, according to eWeek Magazine.
Studies also show that text-enabling your customer support and customer service teams can dramatically cut the costs of customer interactions.
But before you put your customer-facing employees into "text first" mode, it's important to remember that typical text communications take place outside the scope of your compliance programs and other enterprise systems.
For example, typical Short Message Service (SMS) texting is a function that is native to the mobile network. If your employees are texting with customers on their mobile phones, then these communications can take place entirely outside of your communications systems and processes.
This is why we have been working with a number of our customers on SMS-enabling their enterprise communications systems.
The Tango Networks' solutions for Enterprise Text Messaging permit your employees to send text messages from their work phone numbers.
For example, many customers who have Cisco Jabber deployments have SMS-text-enabled their Jabber users with our solutions.
The Business Number Messaging solutions put you in control so you can enforce compliance with communications monitoring, recording and archiving requirements. That means your users' text messages can be compliant with regulatory rules or your communications quality assurance programs.
Contact us today to learn more about how our Enterprise Text Messaging solutions will:
Enable your users to send mobile SMS messages from their business numbers

Retain your users' business identity throughout communications with customers and external parties

Permit centralized recording of text messages to ensure compliance with FINRA, MiFID II and other requirements