November 15, 2019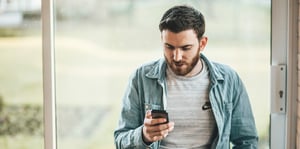 Have you noticed that in recent years, more and more companies and organizations have made mobile communications the backbones of their operations?
From going "Mobile First" as PwC has done, to mobile-enabling firstline workers and replacing expensive DECT systems, companies of all shapes, sizes and industries are making mobility a chief part of their IT strategies.
If you offer business communications services to companies, how are you satisfying the demand for more effective and efficient business mobile services?
The roll-out of 5G networks will only accelerate the trend, as more operators expand coverage to more cities and consumers grow even more accustomed to high bandwidth mobility. And initiatives such as implementing full 4G mobile coverage on the London Underground by the mid-2020s will make it harder to find any place that doesn't have mobile voice, data and messaging coverage.
But why are these massive build-outs taking place? Notice the common denominator driving each of these developments: the customer demand for mobility.
Virtually every company of every size has employees working anywhere and everywhere, using mobile phones as primary communications tools, who will make choices based on how operational and useful their phones will be. Teleworking, remote working, virtual workplaces and work-from-home programs are increasingly critical to the operations of many businesses. The ability to be continuously reachable and highly responsive hold the promise to drive productivity gains and reduce communications delays and inefficiencies.
If you are a business communications service provider, you can now extend your services to mobiles with true network native performance and business quality with our new Mobile-X service.
How does Mobile UC for your business customers work?
If you are a Communications Service Provider offering business communications services, our Mobile-X service provides pre-integrated mobile communications for your business customers:
Out-of-the-box integration with your UC and UCaaS platforms, including Cisco's BroadSoft
Universal corporate mobile phone SIM that works everywhere
Unique self-service features that put control over policies, usage, routing and security into your business customers' hands
Mobile call recording & policy compliance, filling a critical need for many business customers
Unique native mobile network performance, quality and security -- not messy over-the-top UC apps that customers hate.
Email at sales@tango-networks.com or fill out the form to learn more about integrating Mobile-X with your UC service offerings.