March 30, 2017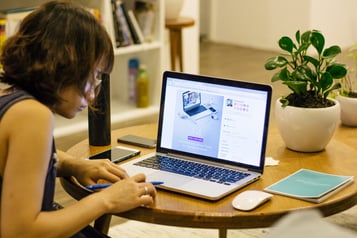 Your approach to customer engagement can make a world of difference for your bottom line. This week we announced our new Customer Engagement Mobility solution that can raise the customer experience to a whole new level.
It seems like common sense: happy customers produce more profit. Happier customers are willing to spend more with you, become repeat customers, and refer you to friends and relatives. In fact, the research shows exactly that sort of outcome, such as Harvard Business Review's article reporting that happier customers spend a lot more than unhappy ones.
So what makes for a good customer experience? Industry experts say it often boils down to keeping the interaction simple and easy.
If the customer has to jump through a lot of hoops, call a bunch of different numbers, verify their identity multiple times, explain their problem to several different people … the experience is anything but simple and easy. Even if the customer's problem is solved at the end, the experience has not been a pleasant one.
So what makes an interaction simple and easy for the customer? Here are three ways to simplify customer engagement.
One company, one number
If the customer calls with a problem and a specialist needs to get involved, does the customer have to call a different number to reach them? If a field service technician is contacting a customer, does the caller ID show the call is coming from an unrecognized mobile number, or from the main corporate number?
Obviously, the few numbers involved and the fewer calls the customer has to make, then the simpler the customer's experience will be.
This is exactly how our Customer Engagement Mobility solution operates. It ensures that the customer is exposed to a single number for all calls to and from your business.
Mobility synched with customer experience workflow
Customer experience has become a major area of investment for enterprises of many types. A lot of the innovation in the space has focused on creating repeatable and streamlined workflows for agents in the contact center and in other customer-facing roles.
The latest developments in the space have focused on ensuring that other IT tools are properly synchronized with these workflow steps. For example, suppose a contact center agent needs to involve a technical expert in solving a customer's problem. Instead of asking the customer to call a different number, the contact center agent should be able to conference in the technical expert immediately.
Our Kinetic Communications Platform enables your contact center agent to do exactly that, even conferencing in a specialist who is on call on a personal mobile device. It's entirely seamless and simple for the end customer.
Extend quality and optimization processes to mobility
One of the chief components of a customer experience management program is the monitoring and recording of customer calls for quality assurance and workforce optimization. This way management can identify problems, troubleshoot workflow issues, engage in training, and generally ensure that contact center agents are making the customer experience simple and easy.
But there is a blind spot in call quality assurance programs: the mobile device.
While central call monitoring and quality assurance systems are in place for the landline phone systems, they do not cover the mobile devices used by field service technicians, specialists on call, and others away from their desk phones.
Our Customer Engagement Mobility solution solves this problem. It extends the quality assurance process to mobile devices, including personal devices as part of a Bring Your Own Device (BYOD) program. You can use the exact same central recording, monitoring and analytics products that you do with your landline phones.
This important innovation is the subject of our newly expanded partnership with Verint, which we announced recently. Check out more details here, in an interview with Verint's Vice President of Product Strategy Dan Spohrer on Loyalty360.
Download the latest Trend Advisor on Mobility for the Modern Enterprise.